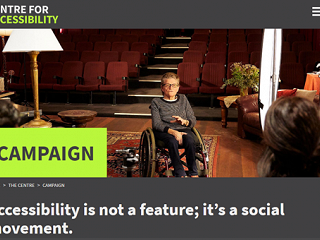 Yesterday many of our meetup group were at the launch for the Centre for Accessibility, a joint project between Dr Scott Hollier, DADAA and Media on Mars. In spite of the cold weather and early start, there were over 100 people attending to give the digital resource a good start.
There was time for chatting and eating a delicious breakfast before the talks began. The Welcome to Country included some didgeridoo beat boxing with Auslan translation, and we watched the campaign video together. Various people spoke including the former director of DADAA Helen Errington and our very own Dr Scott. There were some smartphones with screenreader software enabled so people who weren't familiar with them could try it out, and big posters with quotes from the campaign video were placed around the hall.
The Centre for Accessibility website is bursting with useful accessibility resources written in an approachable and easy to understand way. We highly recommend that all our members and friends give it a look and share it with everyone!