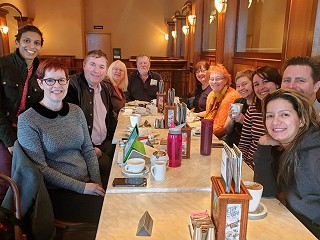 This month we heard from Jane Ots, Digital Coordinator for GESB. She told us how she'd worked with Matt Putland to get the GESB site audited and fixed so that it met the WCAG 2.0 double-A standards. It was a huge effort, including getting content writers and designers and developers on board. Today the site is pretty good for accessibility, but Jane has high standards! She will keep making improvements as she and her team learn how to maintain the accessibility of the site over time.
Thanks so much Jane for coming along to share with us! It was a real pleasure to hear from someone who was new to accessibility just a short time ago, but is now committed to doing the best she can in every way.
Image caption: Jane with our meetup group at Dome Cafe in Northbridge.