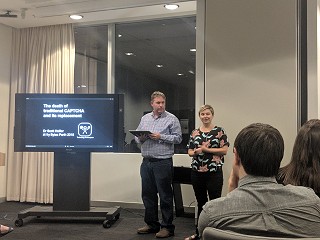 On 17th May, Perth joined in for the A11y Bytes celebration of Global Accessibility Awareness Day. We had 4 speakers from the meetup group give lightning talks, and a few dozen developers, designers and management types come along to share the fun.
We did have some technical hitches at first, due to a new presentation system in the room. But Antoinette from Microsoft persisted through the challenges and got us presenting on a giant TV-sized Surface touchscreen, which was impressive. Luckily we had snacks and drinks to keep us occupied while that was sorted out! Thanks again to Michelle Sandford from Microsoft for sponsoring our event and organising a last-minute guest account for me to use!
Dr Scott Hollier gave a talk on the death of CAPTCHA, which got a cheer from the crowd. Matt from the Centre for Inclusive Design showed us what happens when you rely on the browser default error messages in forms, and some better alternatives. Vithya inspired everyone with her binaural sound adventures! I played a few rounds of Keyboard Roulette with the help of my lovely assistant Zel - we tested the keyboard focus states of various websites and learned where the potential pitfalls are even on well-designed sites.
There was also heaps of chatting and networking, with people sharing what they're working on and asking good questions about how to make their projects more accessible.
From what I've heard, the other A11y Bytes events on the east coast went well too, with Sydney having a huge number of attendees! I hope you all had a great time, and look forward to seeing you again next year for more little bites of accessibility knowledge.